Baltimore, Maryland. Founded on July 30, 1729 and named after Lord Baltimore, Cecilius Calvert. famous for crab cakes, the Major League Baseball Balitmore Orioles, being too close to Washington, DC and Dumbasses.
Many of Baltimore's citizens are natural born Dumbasses born with speech impediments that cause them to call the city "Balmer" or some messed up shit like that. But none of these speech impeded Dumbasses can hold a candle to the Maryland Master of Dumbassery (MMD), Russell Neff.
At first glance Russell Neff looks like any 22 year old Dumbass patrolling the streets of BalmyasHell, but that is far from the case.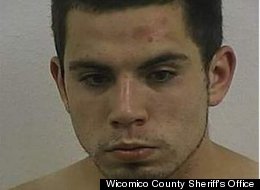 Russell Neff, Remote Licker
Lucy, I got some splainin' to do.
Russ and the Remote
WBALtv.com
has the story for us:
"Officials on the Eastern Shore arrested a 22-year-old man after they said he broke into a home in Salisbury, stripped down to his underwear and began cooking a chicken pot pie in the victim's kitchen.
Russell Neff, 22, of Salisbury, was arrested Wednesday after Wicomico County sheriff's deputies said he broke into a home in the 100 block of Civic Avenue.
The homeowner told deputies that he ran upstairs after Neff began beating on his front door around 10:30 p.m.
Neff eventually got into the home, where police said they found him sitting in a chair in the living room in only his underwear, licking the homeowner's TV remote control. Investigators said Neff was also in the process of cooking himself a chicken pot pie that he had found in the kitchen.
The Sheriff's Office said Neff resisted arrest but was eventually taken into custody and charged with burglary, theft of a chicken pot pie, malicious destruction of property and resisting arrest.
He's currently at the county detention center with bail set at $250,000.
The homeowner told police he did not know Neff before the incident".
Question Time!
First, a quarter of a million dollar bail? Really? Hell, the Playboy Playmate who smuggled a live human bean into the country from Canadiastan got hit with only a $10 Large I think) bail. Oh, well.
Why did Russy-poo even break into the house? For a chicken pot pie? next time try for a T-Bone, Dumbass. Or Vodka. Vodka is always better than a pot pie.
If the State of Maryland didn't have such Commie gun control laws (look it up), then Russel Neff would be eating daisies right now. And deservedly so. Fuck him. A man's home is his castle.
Licking a TV remote? What? Maybe it was dipped in tater juice. (OK Yoopers, "tater juice" is vodka)
Watching TV in his underwear? I must amend a previous statement: Russell Neff would be eating daisies in his underwear.
Dumbass.