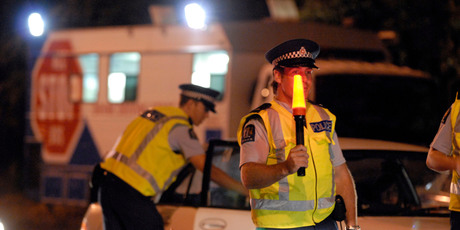 ***Photo from NZ Herald***
At last count,
Dumbass News
was being read by
idiots
nice folks in 142 countries around the globe. A few hundred of our fellow Dumbasses reside in New Zealand. I don't remember if we have ever had a story about a Kiwi Dumbass before or not.
So now, New Zealand, it's your turn in the spotlight because our Dumbass today is one of your own!
You can thank me for shining the disinfectant of sunlight upon the dregs of your civil society later.
Drunk Driving
On the surface this story appears to be a fairly routine drunk driving story. But if you dig a little deeper, you get the details that qualify this tale as a bit, shall we say, "unique"? No we shall not say "unique", we shall say stoopid as fuck.
Not only did the Dumbass in Question, 26 year old Ryan Scott Thompson of Christchurch, get wasted and drive an automobile, he drove said automobile into an old woman's house scaring the poor lady out of her wits. Luckily there were some neighbors who witnessed the accident and were able to come to the aid of the Little Old Lady and subdue the suspect until the cops got to the scene.
The
New Zealand Herald
picks up the story from there,
"Thompson blew almost three times the legal breath-alcohol limit after smashing into Dawn Sanders' living room where she had been sitting moments earlier just after 10pm on July 23.
He pleaded guilty to all charges at his first appearance in the district court and was fined and ordered to pay $1500 in "emotional harm" reparation to Mrs Sanders
Neighbours who rushed to Mrs Sanders' aid detained the grossly intoxicated but uninjured Thompson until police arrived.
Police said he was unable to walk unaided or coherently answer questions.
After Thompson recorded a breath-alcohol reading of 1137mcg/L
(Ed.- which means "drunk as fuck" in the American version)
at the police station, a police officer was completing paperwork when he heard the sound of running water, according to the summary of facts."
That sound of running water?
Thompson was caught pissing on the
breathalyzer tubes
at the police station! Now, to my way of thinking, taking a leak anywhere but in the Toilet at the Cop Shop precludes any claim of innocence or police misconduct. In other words,
you have been busted, Dumbass!
The
Herald
adds, "
The 301 contaminated tubes had to be destroyed.
(Ed.- Ya think?!)
Thompson admitted drinking and driving but was unable to offer any explanation. He was taken to Christchurch for detoxification.
Judge Graham Hubble disqualified Thompson from driving for nine months on the excess breath-alcohol charge and a concurrent three months on the careless use count.
He was fined $200 for wilful damage."
Questions and Comments Abound
"Disqualified from driving" for nine months? WTF? The guy blew a "drunk as fuck" on the Breathalyzer for Christchurch's sake! He ought to be disqualified from doing anything but nine months of Kiwi Prison Bitchery. In a homo prison.
Aside form the fact that the Dumbass crashed into a house, the dude nearly killed a Little Old Lady in the process, and he gets fined $1500? You're kidding, right, Judge Hubble? Right?
The Kiwis ain't nearly as Bad Ass as the Aussies.
The "sound of running water" is too fucking funny.
Pissin' on the Drunk Detectors is also too fucking funny.
So, my dear Kiwi Dumbasses, you may now bask in your moment of glory. You have officially made it to Big Time when you have made it to
Dumbass News
. And when I say "Big Time" I mean you have hit rock bottom.
For your self-esteem and emotional well-being (and the fact that Judge Hubble still has a job) you should do your penance by donating a large sum of money through the
PayPal Donate Button
in the right sidebar to
Dumbass News
. I'll fly down and have a nice long talk with Judge Hubble. Over a couple of beers of course.
I know it would make
me
feel better. And "drunk as fuck".
Dumbasses.