Best of Dumbass News
You are about to read about what could be the Co-Dumbasses of the Year, which would be a first in the history of the
Dumbass of the Year Awards.
While it is still too way too early to make a call on the winner of the
3rd Annual Fred G. Sanford "You Big Dummy"
Dumbass of the Year Award,
the two idjits in this story are the leaders in the clubhouse as of today.
Creatively Stoopid
We have covered all kinds of smuggling here at
Dumbass News
, from the guy who smuggled
cocaine in roasted chickens
, a Playboy Bunny who
smuggles Canadians
into the USA to a guy who tried to sneak some
illegal cockroaches
into the country, but we have
never
and I mean
never
had the honor on reporting on a Dumbass who tried to
smuggle cocaine
into the United States in a
hair weave!
Today, we have the good fortune of telling you of
TWO
Dumbasses who thought bringing contraband onto US soil in hair weaves was a good idea!
No matter how idiotic the scheme, you gotta give these two an A+ for creativity.
Doing a Boyfriend a Favor
From HuffPo
,
That's the hair-raising accusation that has Kiana Howell and Makeeba Graham tangled up in a criminal case. The two women were arrested early Sunday morning at JFK Airport in New York after their extra-tall hair weaves raised the suspicions of guards.
Howell and Graham had just arrived from the South American country of Guyana and caught the attention of officials when they started wigging out as they approached customs, the New York Post reported.
Officers started sniffing around and, upon closer inspection, discovered more than two pounds of cocaine woven into the two women's hairdos, according to The Smoking Gun.
Officials said Howell and Graham concealed the cocaine in form-fitting plastic bags on their scalps. Howell allegedly had 35.1 ounces of nose candy hidden under her hair weave, while Graham is accused of hiding 36.9 ounces beneath hers, UPI reported.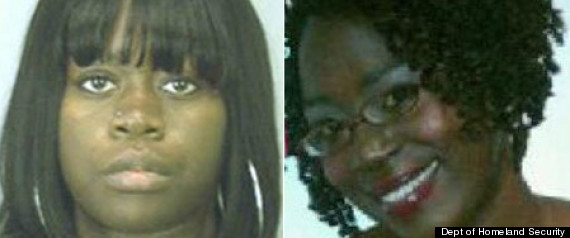 Kiana, the bitch who looks like Flip Wilson, said, of course, that she had no idea what was in the packages, but she was just doin' a solid for her Guyanan boyfriend. And
$7500.
Yep. Not much says
"I didn't know what was in there"
like being paid seven and a half large for being the courier of a package with
two pounds
"unknown contents". On your fucking
skull!
Nothing suspicious there. Move along.
I shave my head so I have no hair up there, but I gotta a feeling that if I put on a wig that weighed two pounds, I just might say to myself, "Self, something is screwy here".
But that's just me.
Not Kiana and Makeeba. And by the way, who the hell in their right mind names their kid "Makeeba"? Oh, yeah. A coke head that's who.
Dumbasses.