I like Old People. Hell, I am almost an Old People myself.
Old Farts have a lot to offer those around them. They didn't get to be Old People by being stoopid. But sometimes when People get to be Old People they transform into Old Stoopid People. Take, for instance, George Plane, Jr. of Statesville, North Carolina. George was just a nice Old Man working as a greeter at the local
WalMart
when Satan took over his Soul. At this point George went from Nice Old Man to Nice Old Man Who Is Now a Dumbass Felon.
Let me splain.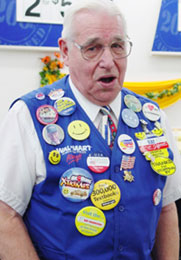 This is NOT George!
George was doing his duty as a
WalMart
greeter making shoppers feel welcomed when he left his post and went outside to his car. While there, George
put on a disguise
and went back into the store. He hauled ass (as much an 83 year old man can haul ass) to the Garden Department and
pulled out a pistol!
George pointed the gun at a Garden Department employee and demanded all the cash in the register. During this felonious assault, George the Old Dumbass Felon fired a shot into the air. A couple of things here. I'm thinking that a gun shot inside the WalMart might garner some attention. But that's just me.
Second, and more important,
an 83 year old man in a disguise just might strike some people as odd.
For God's sake, did this Old Felonious Dumbass really think that nobody would recognize him? 83 year old dudes in some weird get up are not what you'd expect to see at the local
WalMart
store. I'm thinkin' that George stood out like a guy in a white sheet and a pointed hat at an NAACP rally. I'm just sayin'.
George got the cash from the register, then used his walker to make a bee line for his car and make good his escape. But, George didn't make it far when he was stopped by the cops for Driving While Not Able to See Over the Steering Wheel and armed robbery, but mostly armed robbery. Upon arresting George, one of the cops said (I am not making mthis up), "He appeared to be in good shape". Except for the fact that he was
eaten up with The Stoopid!
Dumbass.